REE DMV Practice Test for California Permit 2020 | CA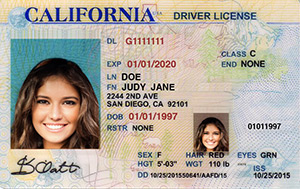 California DMV Driver's License.
This California DMV practice test has just been updated for July 2020 and covers 40 of the most essential road signs and rules questions directly from the 2020 official CA Driver Handbook. Prepare for the DMV driving permit test and driver's license exam using real questions that are very similar (often identical!) to the DMV test. Each practice test question comes with a hint and explanation to help you remember the concepts. The written portion of the official DMV test will also cover information from the Driver Handbook and ask questions regarding rules of the road, traffic signs, and driving laws. You must answer 38 out of 46 questions correctly (or 30 out of 36 if you are over 18), to achieve the required 83% passing score. Use this DMV practice test as a helpful study aid towards getting your CA instruction permit or driver's license. The DMV exam is offered in multiple languages, but to guarantee you have enough time to complete it, you may not start the test after 4:30 pm. The state has strict requirements for issuing instruction permits for minors; they can be found in the California Driver Handbook. The use of any kind of testing aid during the test will mean an automatic failure of the test, and the DMV may take additional sanctioning actions against your driving privilege, so please do not cheat.